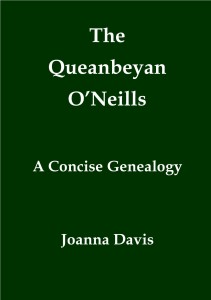 $2.00 (35 pages, B5, not illustrated)
The above "Buy Now" link leads to Payhip's secure external payment gateway for purchase of a downloadable digital version (pdf format) of the book via Paypal.
For payment by direct deposit please email orders@joannadavispublishing.com. (Please see "Terms and Conditions below").
The Queanbeyan O'Neills – A Concise Genealogy is a brief biographical outline of the O'Neill family of the Queanbeyan district. For a detailed biography please see The O'Neills of Queanbeyan by the same author.
The O'Neills were one of the most influential families in Queanbeyan, starting with William Gregg O'Neill, Chief Constable of Police from 1853 until 1862, when he was promoted to Sub-inspector, stationed at Hay and Gundagai, and during which time he was engaged in the pursuit of bushrangers, including Daniel "Mad Dog" Morgan and Ben Hall's gang. On his return to Queanbeyan in 1866, he was a leading figure of the district until his death in 1886. In 1854, O'Neill married Charlotte Blewitt of a pioneering family of the district and was joined by his brothers, James and John Allan, from Ireland. James and his family were to establish the longest-running family mail and coaching service in the district, still operating well into the twentieth century, and in 1879, John Allan, "Jack", founded the Queanbeyan Times newspaper in a venture which gave rise to the careers of some of the most significant writers and politicians in Australia and New Zealand. In 1859, the O'Neills' sister, Isabella, and her husband, Joseph Conlon Tighe, also resided in the district. Their son, John William, was a pioneer of education for the blind in Queensland and New Zealand and their daughter, Marjorie, married long-serving Western Australian politician, J. J. Holmes.
Terms and Conditions
1. Normal copyright restrictions apply.
2. Please note that only one download for each item is allowed. You may print one copy for personal use, but digital or print versions are not to be re-distributed by any means.
3. By pressing the "Buy Now" links you understand you are being transferred to PayPal's external gateway for online payment.