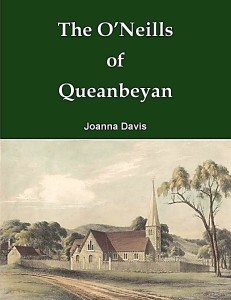 $10.00 (395 pages, B5, illustrated)
The above "Buy Now" link leads to the external Payhip store site for secure payment via PayPal of a downloadable digital pdf version.
(Please see "Terms and Conditions" below).
For payment by direct deposit please email orders@joannadavispublishing.com. 
Much that is in The O'Neills of Queanbeyan is new to Australian history. 
The O'Neills of Queanbeyan
The O'Neills settled in Queanbeyan in the early 1850s. William Gregg O'Neill was appointed Chief Constable of Police in Queanbeyan in 1853. The next year, he married Charlotte Blewitt, whose father was at one time gardener at Charles Campbell's "Duntroon" estate. In December, 1854, William Gregg was joined by his brothers, James and John Allan, and in 1859, by his sister, Isabella, and her husband, Joseph Conlon Tighe. The O'Neills' only other brother, Lewis, stayed in Ireland with their mother, Ann, who died in 1872.
The O'Neills came from a very long Irish lineage. Their father, John O'Neill, one of several children by gentleman, John  O'Neill, and Mary Gregg, was born around 1803 at the family seat at Manorhamilton, County Leitrim. He was an officer in the Irish constabulary and married Ann Townsend in 1824 in County Mayo. John and Ann lived in Tobbercurry, County Sligo, where their five children were born before John died in 1841.
The O'Neills were one of the most prominent families in the Queanbeyan district and played a pivotal role in the history of New South Wales. They were highly active in the community, holding core positions and maintaining the political, religious, social, sporting, cultural, educational, journalistic and literary life of the district.
William Gregg O'Neill was one of the tours de force of Queanbeyan, a central figure of the district and the man of balance and compassion around whom much of Queanbeyan life revolved for over thirty years. Raised in the Irish constabulary and made head of a family of six when his father died young, William Gregg sailed to New Zealand in 1849 with his uncle, Allan O'Neill, who was the surveyor and auditor of the City of Auckland, and where his other uncle, James O'Neill, was a Member of Parliament and a director of the Bank of New Zealand. Another uncle, Dr William O'Neill, was a foremost medical practitioner and amateur archaeologist in Lincoln, England. Other uncles were Ministers of religion in Louth, Lincolshire, and the United States.
After serving with the Auckland Police, in 1851, O'Neill joined the Sydney Mounted Patrol and after outstanding conduct, for which he was several times commended, including by a Mayor of Sydney, George Hill, in 1853, at the age of twenty-seven, he was appointed Chief Constable of Police in Queanbeyan on the Superintendent of Police, John McLerie's, recommendation. In 1862, under the new Police Regulation Act, he was promoted to Sub-inspector of Police, stationed in Hay and Gundagai. In November, 1864, he was involved in an encounter with Ben Hall's gang near Jugiong, when his colleague, Sergeant Edmund Parry, was killed.
In 1866, O'Neill left the police service and returned to Queanbeyan, where he was a leading and patriarchal figure of the district. He went into business as a law, stock, station and commission agent and auctioneer and following on from his brothers, from 1868, ran the Royal Mails and a coaching business.
O'Neill was a mainstay of the Queanbeyan Free Selectors' Association which he helped to found in 1866 and of which he was the Secretary until his death twenty years later. In 1878 he was the Queanbeyan delegate to the Free Selectors' Association Conference in Sydney.
From 1869, on the main platforms of free selection, free trade and free education, O'Neill stood for parliament several times, but for several complicated reasons, was known more for securing the election of important others than being elected himself. In 1869, he was set to win a landmark election in the interests of free selection until at the request of the Premier, Sir John Robertson, and Member for Shoalhaven, Thomas Garrett, he stood aside to secure the election of William Forster, at the time considered essential for the integrity of the Robertson Ministry. By simultaneously supporting the elections of Thomas Garrett for Shoalhaven and Daniel Egan for Monaro, he was credited with almost single-handedly ensuring the return of the ministry of Robertson, who had introduced the Land Act of 1861, with its all-important "free selection before survey" clause. In 1870, he supported the by-election of James Hart for the same reason. In the interests of free trade, in 1880 he proposed the election of free trade supporter, James Bamford Thompson, as MLA for Queanbeyan against "avowed protectionist", Percy Clement Hodgkinson. He was on the working Committee for George De Salis, elected for Queanbeyan in 1882.
As a devout supporter of Christ Church throughout his life, he helped establish the new building designed by Rev. Alberto Dias Soares, served on the Church's Committees and was its delegate to the Synods in Goulburn. However, although religiously observant, politically, O'Neill believed in separation of church from state. As a universalist, O'Neill supported all the churches, regardless of denomination, his main aim being to facilitate social, cultural and mental improvement. A friend of Anglicans, Catholics and Wesleyans alike, he was a stabilising force during times of sectarian heat and when the politics of protection became a stimulus for race hate, he was the leading voice against persecution of the Chinese in Queanbeyan.
Believing education to be the fore-runner of good policing, O'Neill supported all schools, secular and denominational, and housed private schools and then the National and Public Schools in his own buildings. Support for Sir Henry Parkes' 1867 Public Schools Act was one of his election platforms. For many years, O'Neill was the Treasurer of the Queanbeyan Mechanics Institute, also housed in his buildings for some time, and in 1886, he led the meeting that, albeit via a precarious route, ultimately led to the new School of Arts acquiring its own permanent building.
Among his many other achievements in Queanbeyan, William Gregg O'Neill founded the Oddfellows Lodge in 1856, established the Wesleyan chapel in 1860, led roads, railways and bridges movements, founded the Queanbeyan Railway League to decide the railway route when the NSW Government extended the railway to Cooma in 1878 and led the movement for incorporation of the town. Although the main force for municipalisation, O'Neill did not stand for Council himself, stating that men of his temperament were not suitable for positions where diplomacy was required! In 1872, he helped found the Queanbeyan District Pastoral and Agricultural Association. He was the long-serving Secretary of the Queanbeyan Hospital from 1868 and was its President before he died in 1886.
James O'Neill established a saddlery in Trinculo Place in 1855 and then ran the Royal Mails and a coaching business, starting with the first mail services to Kiandra in the Snowy Mountains in 1856. In 1859, he married Mary Ann Affleck, the daughter of Arthur Affleck, later J. P., of Gundaroo. Her brother, William Affleck, was MLA for Yass from 1894 to 1904. Her first cousin, Thomas Affleck, owned the Albury Border Post newspaper from 1860 until 1902, when he closed the paper. Other cousins were Arthur Herbert Affleck, the first pilot for the Royal Flying Doctor Service and Harold Clarence Affleck, Sir Charles Kingsford Smith's  engineer.
When the railway was established in 1887, James O'Neill's family ran the coach services from the station to the town. After James' death in 1891, Mary Ann then ran the mail and coaches in her own right before passing the business to her sons in 1895, who ran the mails to Canberra when the city was established. Progressing into motor transport, the O'Neills became the longest serving family-owned mail and coaching business in the Queanbeyan district, operating from 1856 until well into the twentieth century.
John Allan "Jack" O'Neill was initially apprenticed to his brother, James, at his saddlery. In 1856, he eloped to Beechworth, Victoria, to marry Mary Ann Fineran, the daughter of Googongs farmer, Connor Fineran. Returning to Queanbeyan, Jack then assisted his Chief Constable brother in his policing duties as under-bailiff and then ran mails and a saddlery at Mac's Reef, Bungendore and Queanbeyan, before in 1879, he established the Queanbeyan Times newspaper in one of the most important ventures in Australian publishing history. Over its ten year history, the O'Neills' Times gave rise to the careers of several important writers, journalists and politicists, including the man called Australia's greatest poet, Victor J. Daley, and the poet and later editor of the Sydney Daily Telegraph, John Farrell, who with Daley and Henry Lawson formed the literary "The Dawn and Dusk Club" named for one of Daley's poems. The Times also gave rise to the career of socialist politician and leader of the New Zealand Labour Party, Harry Holland. Jack's son, William James "WJ" O'Neill, was Chief Sub-editor of the Daily Telegraph, wrote for the Sydney Morning Herald, was for many years the Secretary of the NSW Press Association and wrote the children's book, Budgeree Bill, illustrated by the celebrated artist, B. E. Minns. Jack's daughters were pioneering women compositors on Sydney and provincial newspapers, including on their father's papers and at The Dawn, the paper established by womens' rights champion and mother of poet Henry, Louisa Lawson. Under noms de plume, Jack's daughter, Mary Holland, wrote for the Bulletin and the Telegraph, was one of the first female Justices of the Peace in NSW and was President of the Women Justices Association, when H. V. "Doc" Evatt's wife was one of its Vice-Presidents. Another of Jack's sons, John Allan O'Neill, junior, founded the Milton Argus and Gunning Times newspapers.
Isabella Ann O'Neill's husband, Joseph Conlon Tighe, a baker by trade, was a police officer in Gundaroo and Broulee (Nelligan), before the Tighe family ran hotels in Queanbeyan from 1870 and then restaurants and lodges in Broken Hill. Isabella and Joseph's eldest son, John William Tighe, was a pioneer of education for the blind in Australia and New Zealand, establishing the Blind Institute in Brisbane and the Jubilee Institute for the Blind in Auckland. After Joseph died in New Zealand in 1892, Isabella Tighe re-married and lived in Western Australia. In 1897, her daughter, Marjorie, married Joseph John Holmes, the popular and long-serving Member for East Fremantle and the northern districts and the man who led the Committee opposing the appointment of controversial head of Aboriginal Affairs, A. O. Neville.
Written by a direct descendant of James O'Neill and Mary Ann Affleck and thoroughly and originally researched, The O'Neills of Queanbeyan details the history of this active and influential family, including biographical information about their immediate descendants.
Terms and Conditions
1. Normal copyright restrictions apply.
2. Please note that only one download for each item is allowed. You may print one copy for personal use, but digital or print versions are not to be re-distributed by any means.
3. By pressing the "Buy Now" links you understand you are being transferred to the Payhip website and PayPal's external gateway for secure online payment.